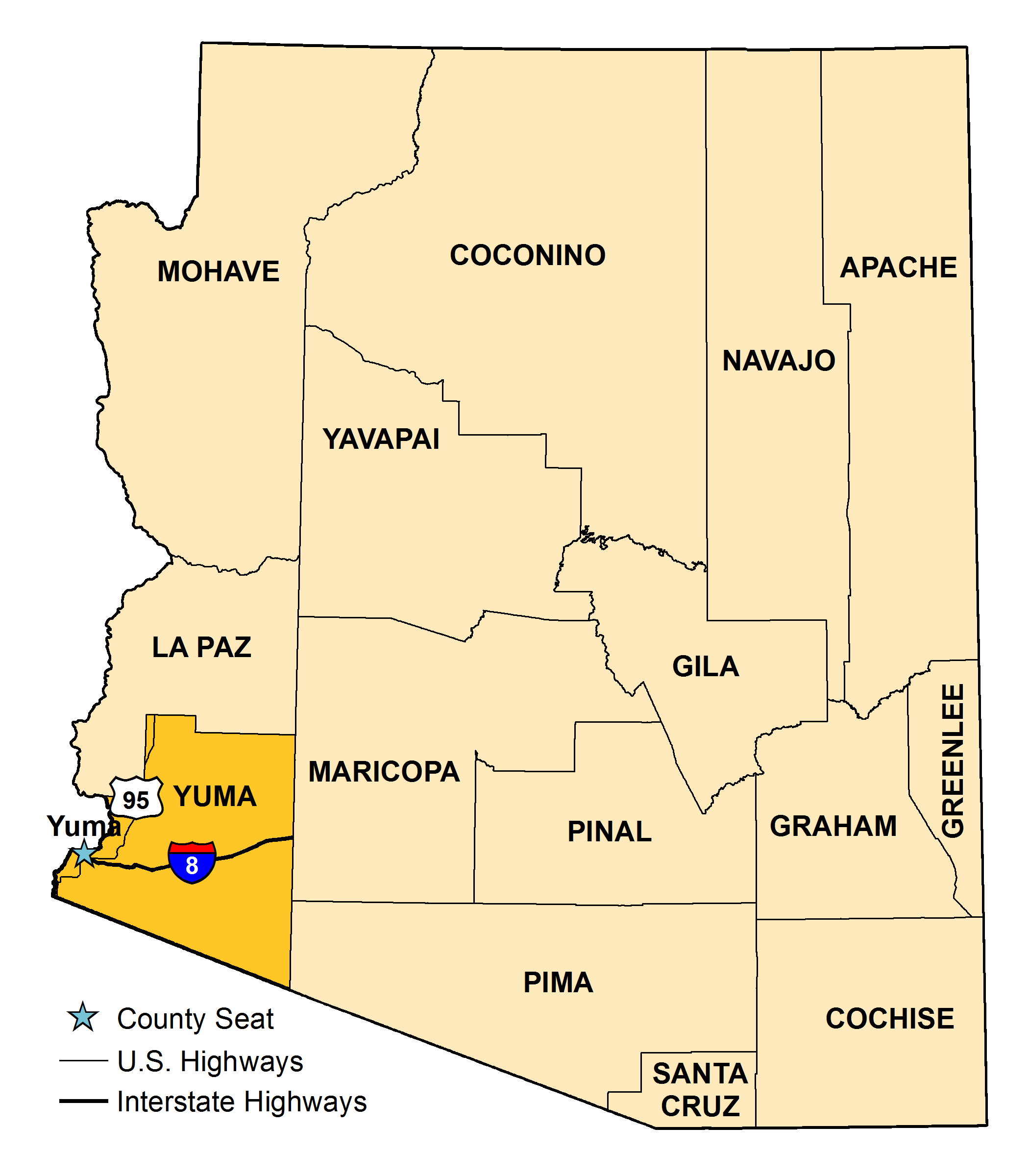 Yuma County was one of the original four counties designated by the first Territorial Legislature. Until 1983, when voters decided to split it into La Paz County in the north and a new Yuma County in the south, it maintained its original boundaries.

In 1540, just 48 years after Columbus arrived in America, 18 years after the conquest of Mexico by Cortéz, and 67 years before the settlement of Jamestown, Hernando de Alarcón visited the site of what is now the city of Yuma. He was the first European to set foot in the area and to recognize the best natural crossing of the Colorado River.

From the 1850s through the 1870s, steamboats on the Colorado River transported passengers and goods to mines, ranches and military outposts in the area, serving the ports of Yuma, Laguna, Castle Dome, Norton's Landing, Ehrenberg, Aubry, Ft. Mohave and Hardyville.

For many years, Yuma served as the gateway to the new western territory of California. In 1870, the Southern Pacific Railroad bridged the river, and Yuma became a hub for the railroad and was selected as the county seat.

Much of Yuma County's 5,519 square miles is desert land accented by rugged mountains. The valley regions, however, contain an abundance of arable land, which is irrigated with Colorado River water. Agriculture, tourism, military and government are the county's principal industries. During the winter months, the population grows considerably with part-time residents.

The U.S. Bureau of Land Management accounts for 14 percent of land ownership; Indian reservations, less than 0.5 percent; the state of Arizona, 5 percent; individual or corporate, 11 percent; and other public lands, 70 percent, including the U.S. Department of Defense and the U.S. Fish and Wildlife Service.


Population
2000
2010
2021
Arizona
5,130,632
6,401,569
7,285,370
Yuma County
160,026
196,160
207,318
Incorporated Cities & Towns
Yuma
77,515
93,275
97,883
San Luis
15,322
25,614
36,081
Somerton
7,266
14,329
14,477
Wellton
1,829
2,884
2,482
Office of Economic Opportunity
Age Distribution
| | |
| --- | --- |
| 0-14 | 21.8 % |
| 15-24 | 16.1 % |
| 25-44 | 24.3 % |
| 45-64 | 20.5 % |
| 65+ | 17.4 % |
American Community Survey
Distance to Major Cities (from Yuma)
| | |
| --- | --- |
| Phoenix | 185 miles |
| Tucson | 240 miles |
| Los Angeles | 272 miles |
| San Diego | 172 miles |
| Las Vegas | 296 miles |
Labor Force
Labor Force
Unemployment Rate
Arizona
3,312,720
4.9 %
Yuma County
93,693
12.9 %
Incorporated Cities & Towns
Yuma
43,858
8.5 %
San Luis
16,846
29.0 %
Somerton
7,666
11.7 %
Wellton
752
0.3 %
Office of Economic Opportunity
Employment by Sector (in thousands)
| | | |
| --- | --- | --- |
| Education, health care & social assistance | 16.5 | 21.0 % |
| Retail trade | 9.8 | 12.4 % |
| Arts, entertainment, food & recreation services | 8.3 | 10.6 % |
| Agriculture, forestry, fishing, hunting, & mining | 8.1 | 10.3 % |
| Public administration | 7.4 | 9.4 % |
| Professional, scientific, & administrative services | 6.4 | 8.1 % |
| Construction | 4.5 | 5.7 % |
| Transportation, warehousing, & utilities | 4.2 | 5.3 % |
| Manufacturing | 4.0 | 5.0 % |
| Other services, except public administration | 3.4 | 4.3 % |
| Finance, insurance & real estate | 3.0 | 3.8 % |
| Wholesale trade | 2.5 | 3.1 % |
| Information | 0.8 | 1.0 % |
American Community Survey
Property Tax
| | Schools | City/Fire | County | Total |
| --- | --- | --- | --- | --- |
| San Luis | 7.94 | 0.00 | 6.77 | 14.71 |
| Somerton | 6.99 | 1.77 | 6.77 | 15.53 |
| Wellton | 5.12 | 0.00 | 6.77 | 11.89 |
| Yuma | 5.91 | 2.35 | 6.77 | 15.03 |
Arizona Dept. of Revenue & Arizona Tax Research Association
SALES TAX / TRANSACTION PRIVILEGE TAX
| | City | County | State | Total |
| --- | --- | --- | --- | --- |
| San Luis | 4.00% | 1.11% | 5.60% | 10.71% |
| Somerton | 3.30% | 1.11% | 5.60% | 10.01% |
| Wellton | 2.50% | 1.11% | 5.60% | 9.21% |
| Yuma | 1.70% | 1.11% | 5.60% | 8.41% |
Arizona Dept. of Revenue & Arizona Tax Research Association