Patrick Stafford's business has a front-row seat to the global economy.
His tower cranes are shipped all over the world – anywhere there's a building boom and a need for a 300-foot crane to help change the skyline. His equipment has been on construction sites in Dubai, Ireland, Guam, Brazil, Uganda and Peru – just to name a few countries.
His cranes helped erect the Academy of Science Museum at San Francisco's Golden Gate Park and the U.S. Department of Homeland Security's National Bio and Agro-Defense Facility in Manhattan, Kansas.
And locally, the Phoenix-based Stafford Tower Crane has helped build the sprawling State Farm regional headquarters along Tempe Town Lake, Arizona State University's new Sandra Day O'Connor School of Law and downtown Phoenix's CityScape.
But the newest venture for the company could be its most notable: Last December, Stafford launched a manufacturing arm, Phoenix Tower Cranes, along with his brothers Derek and Jack. The company has the distinction of being one of the only U.S.-based tower-crane manufacturers in the industry.
Stafford has four American-made cranes in operation, and has plans to build at least a dozen of the nearly $1 million tower cranes in 2017. His company plans to double its manufacturing numbers in 2018 and 2019.
Besides manufacturing cranes, his business includes a fleet of 50 rental cranes, seven mobile cranes, a consulting division and a nationally certified crane-operator school. All this is done from a 3-acre industrial site near Phoenix Sky Harbor International Airport.
But it's the manufacturing arm that will allow Stafford to grow his company to new heights.
Having U.S.-made and assembled parts gives his company more control over shipping, design, engineering and communication with clients. In short, he sees a need to put the supply chain closer to his U.S. customers – and Arizona would be the center of his operations.
For example, if there's a need for a repair at a construction site, U.S. crane operators typically are forced to call or email the overseas crane manufacturers or their engineers to describe the problem and trouble-shoot a solution (most tower cranes are built in Europe).
The language barrier is the most obvious challenge, but the time difference can be a killer for any business. Shipping a part or a new crane can take a month and comes with a hefty price tag. Having parts, expertise and manufacturing capability in the U.S. will give domestic customers better service.
Stafford has consulted with the Arizona Commerce Authority (ACA) on his expansion plans and participated in the ACA's CEO Corner Office, which helps executives fine-tune their critical thinking skills using real-life case studies.
He believes Arizona has all the right ingredients for a robust manufacturing operation.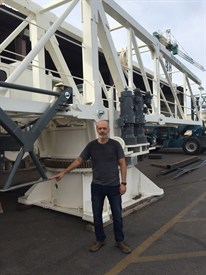 He cited a talented workforce that is not bound by burdensome restrictions. For example, his manufacturers can train to be crane operators, and do the job interchangeably once they are certified, unlike other states where union restrictions make that difficult. He also said Arizona's warm climate is ideal for steel manufacturing, and touted its pro-business environment, especially compared with European manufacturers.
Stafford, who is from Wexford, Ireland, came to the United States in 1988, working as a helicopter manufacturer and test pilot for the former aerospace firm McDonnell Douglas. He got into the crane business in 2004.
All of his new cranes come with innovative features not found in other cranes. Most notably, they come with a built-in incinerator toilet which uses no water – quite a luxury for a trade that for decades required operators to use crude devices, such as buckets, when nature called. All of the cranes also come with electric windows, air conditioning, a refrigerator and microwave.
That kind of innovation is setting Stafford apart from others – and Arizona is the beneficiary of this manufacturing revolution.