The ACA executive management team consists of seasoned executives bringing together the best in economic development, management and communications. Each individual brings an unrivaled background, talent and skill set that, when combined, perfectly positions the ACA to usher in this new era of economic development — the passionate pursuit of business, the creation of jobs and the stimulation of the economy to benefit all of Arizona.  The Arizona Commerce Authority's executive team carries forth the ACA's mission locally, nationally and globally.
---
ACA EXECUTIVE MANAGEMENT TEAM
---
Sandra Watson
President & CEO
Sandra Watson brings more than 20 years of economic development leadership experience to Arizona. She and her teams have successfully attracted to Arizona more than 750 companies that have committed to invest nearly $10 billion in capital and create more than 125,000 jobs.
During her tenure with the Arizona Department of Commerce, and now the Arizona Commerce Authority (ACA), Ms. Watson served in multiple positions with increasing responsibilities and results. She has led Business Attraction, Business Development, Innovation & Technology, Workforce and Marketing divisions. She served as the Executive Director on the Governor's Council of Innovation & Technology in advancing the state's Innovation and Technology roadmap.
Ms. Watson began her career in Canada and brings not only a wealth of knowledge on the regional, state and national levels but can execute effectively on an international scale.
Ms. Watson is a collaborative leader who excels in strategic thinking and relationship building. She worked tirelessly to implement the new vision for the Arizona Commerce Authority, providing invaluable leadership and stability during its transition from the Department of Commerce into one of the nation's first public-private partnerships focused on economic development. She was instrumental in guiding the implementation of the ACA's aggressive five-year business plan promoting the state's pro-business, competitive value proposition. Under her leadership, the ACA has transformed into Arizona's leading economic development organization, and advances its three-pronged approach to strengthen the overall economy: recruit, grow, create – recruit out-of-state companies to expand their operations in Arizona; work with existing companies to grow their business in Arizona and beyond; and partner with entrepreneurs and companies large and small to create new jobs and businesses in targeted industries.
She earned an Honors Bachelor of Commerce degree from Laurentian University, and has completed the Global Leadership Certification program at the Thunderbird School of Global Management. In addition to serving on numerous regional and statewide Boards of Directors, Ms. Watson serves on the Board of Trustees for the State Science and Technology Institute, a national organization focused on promoting technology-based economic development, and is a board member of the Make-A-Wish Foundation of Arizona.
In 2014, the Phoenix Business Journal recognized Ms. Watson as one of the 25 "Most Admired Leaders in Business" and Az Business selected her for its 2014-15 Az Business Leaders publication spotlighting Arizona's most respected and influential business leaders. In 2013, Az Business also recognized Ms. Watson as one of the "50 Most Influential Women in Arizona Business." The Phoenix Business Journal in 2012, recognized Ms. Watson among the "Top 25 Women in Business," one of the 2008 "Power Players in the Phoenix Metro Area," and in 2004, recognized her as an up-and-coming Arizona leader, with its "Forty Under 40" designation. Ms. Watson is also a two-time recipient of the Arizona Technology Council's Chairman's Award (2003 and 2010).
---
Ken Burns
Chief Operating Officer / Chief Financial Officer
KenB@azcommerce.com
602-845-1229
Ken Burns serves as Chief Financial Officer and Chief Operating Officer of the Arizona Commerce Authority (ACA), where he oversees teams responsible for financial incentive program administration, accounting, information technology, human resources and overall operations.
Prior to ACA, Mr. Burns served in a similar capacity for the Greater Phoenix Economic Council for more than seven years, where he was active on Finance, Audit, Resource Development and other strategic planning committees.
In addition to his economic development experience, Mr. Burns has served as an independent management consultant and with a regional CPA firm. His executive experience includes serving as Chief Operating Officer for two mid-sized law firms. He also served on the firms' executive management committees.
In his earlier years, Mr. Burns held leadership positions in diverse industries including manufacturing, telecommunications and the construction trades.
Mr. Burns currently serves on the Clearinghouse CDFI Arizona Board of Advisors and volunteers on the Finance Committee for Florence Crittenton.
Mr. Burns earned Bachelor of Science degrees in Business Administration, Mathematics and Computer Science from Wayne State College in Nebraska and an MBA from Arizona State University. Mr. Burns has also completed University of Arizona's Basic Economic Development Course and is a Certified Public Accountant, licensed in Arizona.
---
Susan E. Marie
Executive Vice President, Strategy
susanm@azcommerce.com
602-845-1231
Susan is an experienced professional with a diverse skill set that includes strategy, marketing, communications, public relations, media planning, copywriting, social media, budget management and business development. Analytical and detail oriented, she's a critical thinker who transforms big ideas into actionable plans and timelines. Ms. Marie joined the ACA in 2014 and in her current role, she serves as the Executive Vice President, Strategy for the Arizona Commerce Authority (ACA). She has previously served as Senior Vice President, Marketing & Communications at the ACA, and continues to oversee that division. Prior to joining the ACA, she held various positions in Phoenix advertising agencies. Ms. Marie holds a BS in Political Science from Arizona State University.
---
Kevin Sullivan
Executive Vice President, Sales and Client Services
kevins@azcommerce.com
602-845-1261
Kevin Sullivan brings more than 23 years' experience to the Arizona Commerce Authority.  He has spent his career leading and supporting high-performance sales teams primarily within the high technology industry.  His experience with both startup (DirecTV, Accrue Software & Good Technology) and large, established global companies in Silicon Valley (SGI, Aspect Communications & Adobe) has provided a wide array of knowledge, which he utilizes to lead the ACA's business attraction efforts.
Mr. Sullivan is a results-driven executive with solid operations management and leadership experience, facilitating strong cross-functional relationships across sales, marketing, finance and legal teams.  He consistently builds, motivates and leads teams that have been recognized for their focus on client satisfaction and on the ability to achieve aggressive sales and financial objectives.  Mr. Sullivan exhibits a strong record of increasing corporate productivity and achieving results.
Mr. Sullivan holds a Bachelor of Science degree in Business Administration from Saint Mary's College and Juris Doctor from Washburn University.
---
Marisa Walker
Senior Vice President, Strategic Planning/ Infrastructure
Marisaw@azcommerce.com
602-845-1297
Marisa Walker began her professional career at the University of Arizona, where for more than a decade she held positions that advised the University's Associate Vice President for Economic Development on Arizona-Mexico and NAFTA issues; analyzed border economic development opportunities and competitive advantages; and organized forums and symposiums on trilateral collaborations among academic institutions in Canada and Mexico in the areas of university research parks, agricultural biosciences and optical sciences-photonics.  She has authored several reports on subjects including cross-border economic integration and development; targeted industry assessments of Arizona's Bioscience and Software Industries; and women entrepreneurship and business ownership in the state.
Ms. Walker also served as the Executive Director for the Arizona Governor's CANAMEX Task Force where she was responsible for managing projects and priorities regarding transportation and telecommunication infrastructure; technology and process enhancements for cross border shipments; and international trade policy.
Currently, Ms. Walker leverages the relationship between economic development strategies and infrastructure assets/investments.  Key areas include the CANAMEX Corridor, the recently designated I-11, multimodal logistic centers, and Arizona's international gateways – notably along the Arizona/Mexico border.
---
Keith Watkins
Senior Vice President, Economic/Rural Development
keithw@azcommerce.com
602-845-1278
Keith Watkins serves as the Senior Vice President for Economic and Rural Development for the Arizona Commerce Authority.  In this capacity, Keith plays a vital role in advising the ACA and Governor's office on rural economic development issues and opportunities.  Under his leadership, the ACA has played a direct role in creating and executing more than $6 million in new rural investment grant programs, assisting more than 60 businesses expand or locate in Arizona's rural communities, creating more than 6,000 jobs, and generating $542M in private capital investment.
Mr. Watkins also serves as Vice Chairman of the Water Infrastructure Finance Authority (WIFA), a public bonding authority that works with Arizona communities and publicly regulated water and wastewater companies to develop, acquire and expand water related projects.  With a bond portfolio of over $1 billion, WIFA serves as a vital financing arm for these core infrastructure needs.
Prior to his work at the Arizona Commerce Authority, Mr. Watkins was Vice President of JF Companies, a privately-held diversified real estate development and water resources firm with holdings in the Western United States.  Mr. Watkins managed a real estate holdings portfolio worth nearly $100 million and was responsible for negotiations for property acquisitions, entitlements, public affairs, marketing, and dispositions.
A third generation Arizona native and University of Arizona graduate with a Bachelor of Science degree in Regional Development, Mr. Watkins has earned a national reputation for his work in economic development.  He has extensive public and private-public economic development experience, having served in executive positions in many organizations. 
Mr. Watkins spent nine successful years at the Greater Phoenix Economic Council (GPEC), where he led the organization's high performing business recruitment efforts, helping to land companies such as Vanguard, Charles Schwab, and Midwestern University.  Playing a direct role in the retention and recruitment of more than 200 firms, Mr. Watkins leadership helped generate over 165,000 new private sector direct jobs and more than $2 billion in private capital investment.  He also served as a founder of the Economic Alliance of Greater Baltimore, where he was recruited to startup this new private-public partnership that serves the City of Baltimore and five adjacent counties. While there, Mr. Watkins developed and executed the first region-wide business retention and attraction enterprise, helping to recruit more than 24 new employers during his tenure and helping to retain an existing General Motors plant.  He also served as Economic Development Director for the Town of Buckeye where he initiated the airport master plan and aggressively marketed the Town.
Mr. Watkins also serves on many boards and commissions, representing the Arizona Commerce Authority and State of Arizona, including:
Water Infrastructure Finance Authority (WIFA), Vice Chairman
Maricopa County Economic Development Council, Member – this group advises the Maricopa County Government on economic development issues and opportunities
Rural Business Development Advisory Council, Board Member – this group advises the Arizona Commerce Authority on rural policy and issues
Arizona Association for Economic Development (AAED), Board Member
Commission of Indian Affairs, ex-officio Board Member
Greater Prescott Regional Economic Partnership, ex-officio Board Member
Mr. Watkins and his wife, Lisa, reside in Scottsdale, Arizona.
---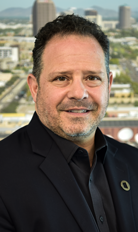 Andy Lombard
EXECUTIVE VICE PRESIDENT OF INNOVATION & VENTURE DEVELOPMENT
andrewl@azcommerce.com
602-845-1277
Andy Lombard serves as Executive Vice President of Innovation and Venture Development for the Arizona Commerce Authority. Prior to joining the ACA full time, he was a Technical Advisor for entrepreneurship. As part of his passion for entrepreneurship, Mr. Lombard helped construct the ACA's $3 million annual business plan competition, the Arizona Innovation Challenge (AIC). Since its inception seven years ago, more than 1,200 technology start-ups have participated in the Challenge, which has resulted in approximately $20 million of invested, non-dilutive capital. He also created and has led Venture Ready, the ACA's tech start-up mentoring program.
Prior to his work with the ACA, Mr. Lombard spent 14 years at Motorola, leading its Asia wireless business. During that time, he advanced to the director of Motorola Ventures, where he was responsible for managing a $750 million portfolio of technology investments while serving on 22 boards in six countries.
Following Motorola, he joined Silicon Valley tech company Adaptive Broadband, where he led strategy and mergers & acquisitions in a highly successful turnaround which saw the stock price increase to $205 from $6 in 24 months.
In 2000, he founded airBand Communications, a broadband wireless start-up backed by Battery Ventures, Sevin Rosen Funds and Cisco, with $76 million in capital raised, building the company to a more than $400 million valuation. Mr. Lombard has founded two additional venture-backed startups during his career.
Mr. Lombard has earned several recognitions and honors for his work, including Ernst and Young Entrepreneur of the Year Finalist; CEO of the Year – CEO World Awards 2014; Executive of the Year, Network Products Guide 2013; Selected by President George W. Bush to serve on the Presidential High-Tech CEO Forum; and Red Herring Top 10 Wireless Startups 2002 for airBand.
Mr. Lombard also volunteers extensive time to mentoring entrepreneurs, community activities and is a volunteer National Ski Patrol for Brighton Ski Resort in Utah.
Mr. Lombard has a B.S. in Electrical Engineering and a B.S. in Computer Science from the University of Missouri and a degree in Executive Management & Finance from Stanford University.