Arizona Commerce Authority Announces Semifinalists in the Spring 2014 Arizona Innovation Challenge
PHOENIX, AZ (May 7, 2014) — The Arizona Commerce Authority (ACA) today announced 25 semifinalists in its Spring 2014 Arizona Innovation Challenge (AIC), a bi-annual business plan competition awarding $3 million annually to talented entrepreneurs.
Each year, the ACA awards – $1.5 million in the spring and $1.5 million in the fall – to the most qualified, innovative startups and early stage companies. Recipients receive up to $250,000 in capital to grow their businesses, advancing innovation and technology commercialization opportunities in Arizona.
"Contatta is proud to be part of Arizona's dynamic entrepreneurial ecosystem which helps businesses grow," said Pat Sullivan, CEO of Contatta, a winner of last fall's AIC. "We are honored that our vision to forever change the way business people communicate was recognized, and winning a challenge award is helping Contatta to launch its collaborative email platform and expand into a high-growth, technology innovator."
"Congratulations to our new semifinalists. Arizona's support of the startup community continues to foster a culture of innovation and propel technological advancements throughout our state," said Sandra Watson, President and CEO, Arizona Commerce Authority. "More than 1,100 applications have been received for the AIC since 2011, and the program has quickly become a foundational part of Arizona's entrepreneurial landscape."
The 25 semifinalists include: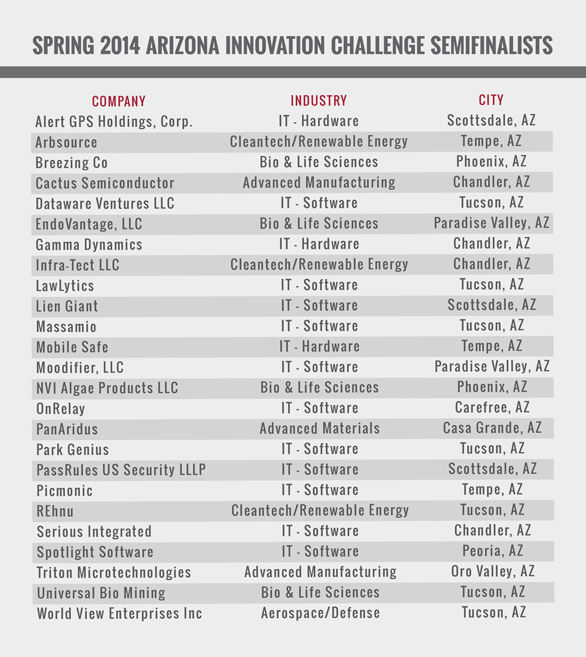 A panel of expert judges evaluated 135 applications from the Spring 2014 AIC, assessing each on a set of criteria including technology potential, marketing strategy, quality of management team and economic impact. These companies represent high-value industry sectors that include IT software, IT hardware, bio and life sciences, cleantech/renewable energy, advanced materials, advanced manufacturing, and aerospace and defense.
Every applying company that meets the AIC's eligibility requirements will receive constructive feedback generated from the rigorous online evaluation and scoring process. All semifinalists also will be considered for participation in Venture Ready, the ACA's mentor program that connects early stage companies with high-level CEOs to further refine business plans and investor pitches.
The ACA will name its Spring 2014 Arizona Innovation Challenge finalists in early June and the winners later that same month.
Media Contact
Joseph Valdez, Arizona Commerce Authority, (602) 845-1234, josephv@azcommerce.com
About the Arizona Commerce Authority
The Arizona Commerce Authority (ACA) is the state's leading economic development organization with a streamlined mission to grow and strengthen Arizona's economy. The ACA uses a three-pronged approach to advance the overall economy: attract, expand, create – attract out-of-state companies to establish operations in Arizona; work with existing companies to expand their business in Arizona and beyond; and help entrepreneurs create new Arizona businesses in targeted industries. For more information, please visit azcommerce.com and follow the ACA on Twitter at @azcommerce.