Arizona Commerce Authority Announces Semifinalists For The 2022 Arizona Innovation Challenge
PHOENIX, AZ (October 4, 2022) — Arizona Commerce Authority (ACA) announced today 30 semifinalists have been selected for the 2022 Arizona Innovation Challenge (AIC).
The AIC is designed to advance innovation and technology commercialization opportunities in Arizona by helping early-stage ventures scale.
"Choosing 30 semifinalists from over 80 exciting applicants for this year's competition was a challenging task," said Sandra Watson, President and CEO of the Arizona Commerce Authority. "Companies applying for this competition continue to impress us with their unique solutions and services. Congratulations to each of the semifinalists and good luck in the next round!"

The 2022 Arizona Innovation Challenge semifinalists include: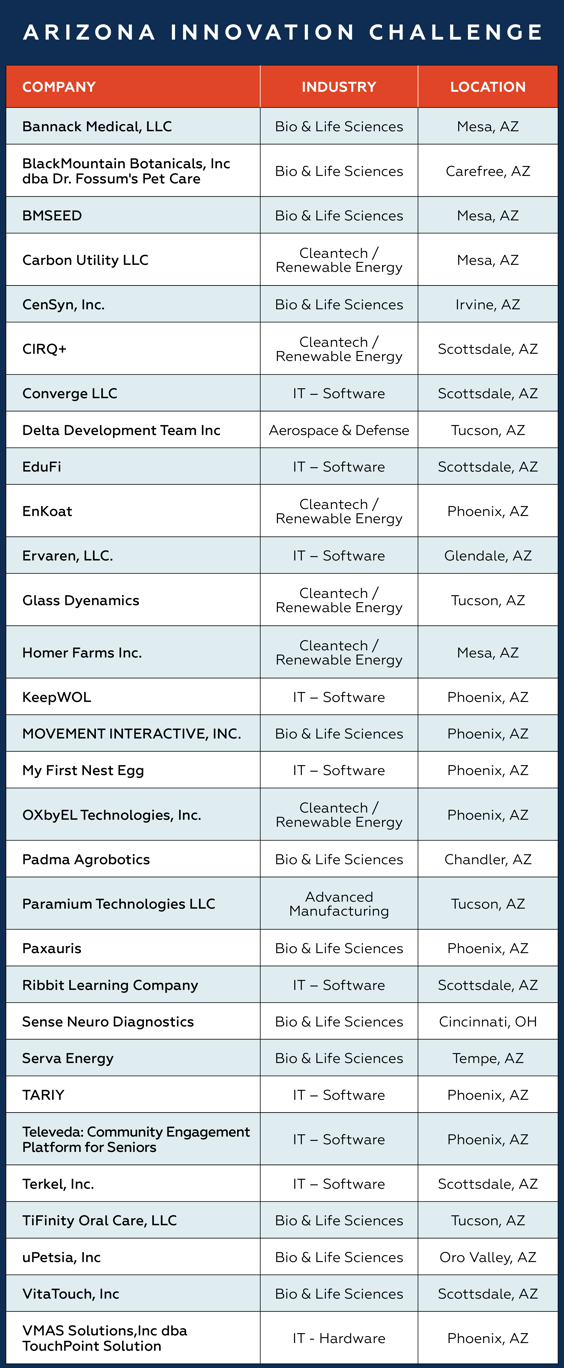 In total, 85 applications were received for the 2022 competition, representing the following sectors:
IT/Software: 40 or 47% of applications
Bio & Life Sciences: 21 or 25% of applications
CleanTech/Renewable Energy: 12 or 14% of applications
IT/Hardware: 6 or 7% of applications
Advanced Manufacturing: 3 or 4% of applications
Aerospace & Defense: 3 or 4% of applications
The AIC consists of three judging rounds, during which companies receive constructive feedback on their applications generated from the rigorous online evaluation and scoring process. Judges will now select 15 finalists that will pitch their startups in-person before a panel of investors. The judges will choose up to 10 companies as AIC awardees for 2022. After all judging rounds are complete, participants will have an opportunity to receive a consultation with the ACA to discuss their application and other potential resources available to help improve their business plans.
2022 AIC Schedule
Week of October 3, 2022: Semifinalist Applications Open
October 20-November 9: Semifinalist Judging Period
November 14, 2022: Finalists Announced
Week of November 14, 2022: Final Pitches
December 1, 2022: Awardees Announced
Up to 10 companies are added to the Arizona Innovation Challenge portfolio following each cycle of the competition. Companies chosen to join the Arizona Innovation Challenge portfolio will participate in the ACA's Venture Ready Accelerator, connecting companies with serial entrepreneurs, high-level executives, and subject matter experts. Participants will complete a series of panels and workshops within the subsequent 12 months of the award. The Accelerator helps startups refine their business plans, improve go-to-market execution strategies and increase investor readiness.
Media Contact
Alyssa Tufts, Arizona Commerce Authority, [email protected]
About the Arizona Commerce Authority
The Arizona Commerce Authority (ACA) is the state's leading economic development organization with a streamlined mission to grow and strengthen Arizona's economy. The ACA uses a three-pronged approach to advance the overall economy: attract, expand, create - attract out-of-state companies to establish operations in Arizona; work with existing companies to expand their business in Arizona and beyond; and help entrepreneurs create new Arizona businesses in targeted industries. For more information, please visit azcommerce.com and follow the ACA on Twitter @azcommerce.