Arizona Commerce Authority Announces Awardees For The 2022 Arizona Innovation Challenge
PHOENIX, AZ (December 1, 2022) — The Arizona Commerce Authority (ACA) announced today 10 companies have been selected as Awardees for the 2022 Arizona Innovation Challenge (AIC). The AIC is designed to advance innovation and technology commercialization opportunities in Arizona by helping early-stage ventures scale.
The 10 companies will be added to the Arizona Innovation Challenge portfolio and participate in the ACA's Venture Ready Accelerator, connecting companies with serial entrepreneurs, high-level executives, and subject matter experts. Participants will complete a series of panels and workshops within the subsequent 12 months of the award. The Accelerator helps startups refine their business plans, improve go-to-market execution strategies and increase investor readiness.

"Once again, the 2022 AIC awardees represent some of the most promising startups anywhere in the country," said Sandra Watson, President and CEO of the Arizona Commerce Authority. "We commend the hard work and dedication of all this year's participants. The AIC has become one of the nation's premier business pitch competitions and we look forward to continuing to support Arizona's innovative startups."

Since 2011, the ACA has selected 125 AIC awardees from over 2,000 applicants. Previous AIC Awardees include CampusLogic, Paradox, Trianual, TapRoot Interventions & Solutions, botco.ai, Neolight and Qwick.
The 2022 Arizona Innovation Challenge awardees are: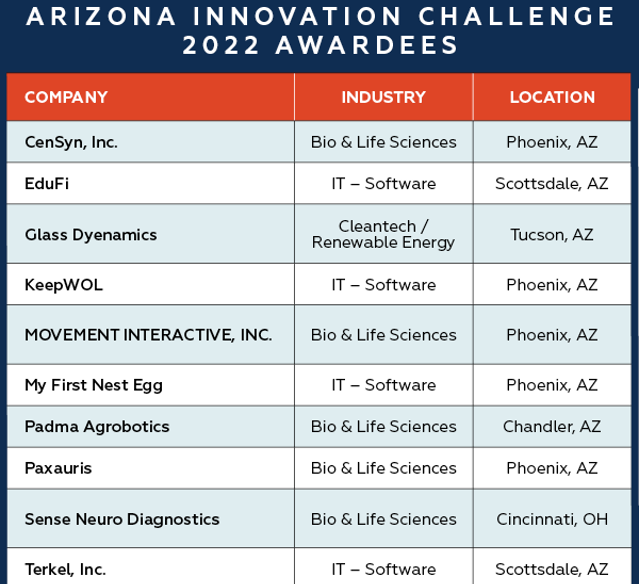 The 10 awardees were selected by judges after pitching their startups in-person before a panel of investors on November 17.

Now that the judging rounds are complete, all AIC applicants will have an opportunity to receive a consultation with the ACA to discuss their application and other potential resources available to help improve their business plans.

To learn more about the 2022 AIC Awardees, click HERE.  
Media Contact
Alyssa Tufts, Arizona Commerce Authority, [email protected]
About the Arizona Commerce Authority
The Arizona Commerce Authority (ACA) is the state's leading economic development organization with a streamlined mission to grow and strengthen Arizona's economy. The ACA uses a three-pronged approach to advance the overall economy: attract, expand, create - attract out-of-state companies to establish operations in Arizona; work with existing companies to expand their business in Arizona and beyond; and help entrepreneurs create new Arizona businesses in targeted industries. For more information, please visit azcommerce.com and follow the ACA on Twitter @azcommerce.