More Jobs Than Ever Before; Arizona Economic Development Sets Record Again
Companies working with the Arizona Commerce Authority committed to creating a record amount of projected jobs in Fiscal Year 2022
PHOENIX, AZ (September 12, 2022) – For the second year in a row, Arizona economic development efforts broke records. During the 12-month fiscal period that ended June 30, 2022, the Arizona Commerce Authority (ACA) and local economic development agencies successfully worked with companies that committed to creating a projected 24,186 new Arizona jobs - a single year record. Those companies also committed to investing $10.75 billion in local communities.
The FY 22 results represent 151 percent of the ACA's projected jobs goal, 110 percent of its wages goal, and 768 percent of its projected capital investment goal.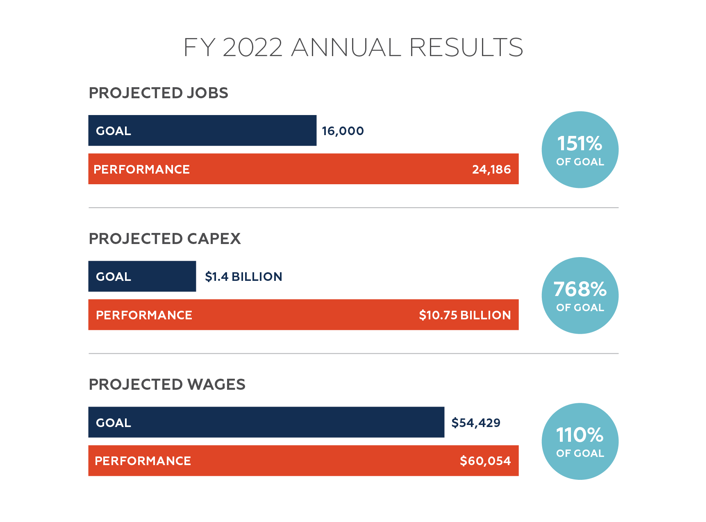 "Once again, Arizona's robust economic development is setting records and gaining national recognition. With our state's strong fiscal position, rising revenues and population growth, Arizona remains unstoppable," said Governor Doug Ducey. "I commend Arizona's entrepreneurs, innovators and employees for continuing to set the national standard for economic excellence. I also want to recognize Sandra Watson and her outstanding team at the Arizona Commerce Authority as well as the economic development leaders across the state for their critical work to grow, strengthen and diversify our economy."

Contributing significantly to the FY 2022 results was KORE Power's announcement to build a 1-million-square-foot battery manufacturing facility in Buckeye, creating 3,000 new jobs.
"Arizona checked all the boxes," said Lindsay Gorrill, KORE Power CEO. "We needed a location for our factory that had a track record of supporting energy storage, a growing clean transportation sector, and a workforce that could deliver American-made battery technology. Arizona hit a homerun."
"Arizona's economy continues to rapidly grow, attracting more advanced industries and investments," said Sandra Watson, President and CEO of the Arizona Commerce Authority. "Governor Ducey and our legislative leaders have created an optimal environment for advanced industries to thrive including semiconductor, electric vehicle and batteries. We are grateful to all of our industry and local partners for their continued support and collaboration to advance Arizona's economy."
Expansion and attraction projects in FY 2022 include:
In addition, Intel's $20 billion investment to build two new semiconductor fabs in Chandler was named one of six "Manufacturing Projects of the Year" by Area Development Magazine in June 2022. Arizona was also awarded its fourth Gold Shovel Award in June for the state's success in terms of new job creation and company capital investment in 2021.

Since 2011, Arizona has successfully won more than 1,067 competitive projects, which represent over 237,000 projected new Arizona jobs and over $69 billion in capital investment.
Media Contact
Alyssa Tufts, Arizona Commerce Authority, [email protected]
About the Arizona Commerce Authority
The Arizona Commerce Authority (ACA) is the state's leading economic development organization with a streamlined mission to grow and strengthen Arizona's economy. The ACA uses a three-pronged approach to advance the overall economy: attract, expand, create - attract out-of-state companies to establish operations in Arizona; work with existing companies to expand their business in Arizona and beyond; and help entrepreneurs create new Arizona businesses in targeted industries. For more information, please visit azcommerce.com and follow the ACA on Twitter @azcommerce.