Arizona Wins Third Consecutive Gold Shovel Award For High Quality Job Creation
TSMC's $40 billion investment in Phoenix wins "Manufacturing Project Of The Year"
PHOENIX, AZ (June 7, 2023) – Arizona today was awarded a prestigious "Gold Shovel" award from Area Development Magazine in the 6-10 million population category, marking the state's third consecutive gold shovel. Considering economic development projects that were announced, commenced construction or operations in 2022, the Shovel Awards recognize states that "garnered large job-creating and investment projects through innovative policies, infrastructure improvements, and other processes that attracted new employers as well as investments in expanded facilities."
In addition, Area Development named TSMC's $40 billion investment in Phoenix one of 15 "Manufacturing Projects of the Year." In December, TSMC announced a total investment of $40 billion to build two fabs in north Phoenix, creating 4,500 jobs.

Since 2007, Arizona has won five gold shovel and six silver shovel awards. Arizona's five gold shovels have occurred all in the past seven years.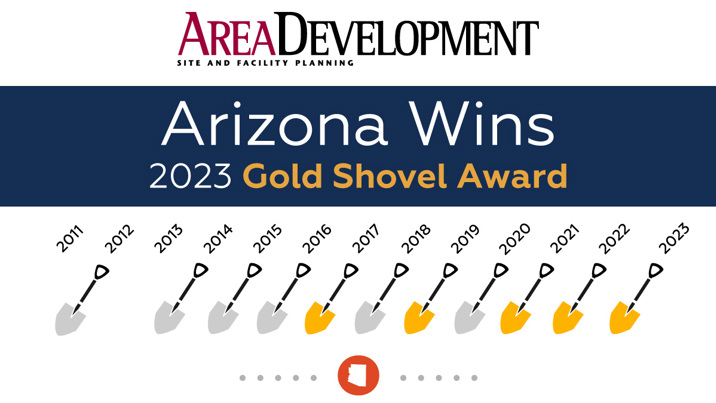 "From semiconductors to batteries, renewable energy, electric vehicles and more, Arizona has become an epicenter of innovation," said Governor Katie Hobbs. "Investments from leaders like TSMC and the many supply chain operators who call Arizona home ripple across our economy, supporting good-paying jobs all across our state. We are proud Arizona continues to be recognized as a top state for high-quality job creation and economic development."
"It was just over three years ago that we announced our plans to bring the most advanced semiconductor manufacturing technology to the United States," said Rick Cassidy, Chairman of TSMC Arizona. "Then in late 2022, we doubled down on our plans and now construction of two leading edge fabs is well underway in Phoenix, Arizona. This investment is not only critically important to our valued customers, but it also supports a U.S goal to bolster a thriving and competitive semiconductor ecosystem. It's terrific that this project has been recognized for its significant economic impact, but it is an honor we share with our important partners in the State of Arizona as well as the City of Phoenix."

"As a burgeoning hub for innovation in semiconductors, bioscience technology, and electric vehicle manufacturing, Arizona is more than deserving of a third straight Gold Shovel award," said Phoenix Mayor Kate Gallego. "I'm proud that many of the transformative, nationally renowned projects are right here in Phoenix, including TSMC's historic investment in our community. I'll continue to work alongside our regional partners and business leaders to build on our momentum, create more great-paying jobs and grow our economy."

"We're honored Arizona has been recognized with a Gold Shovel award for the third consecutive year," said Sandra Watson, President and CEO of the Arizona Commerce Authority. "We are grateful to work alongside our state, local, and federal partners to grow and advance Arizona's economy."

"Arizona has demonstrated an unwavering commitment to fostering innovative business and creating high-quality jobs, and this third consecutive Gold Shovel award is a testament to that," said Chris Camacho, President and CEO of the Greater Phoenix Economic Council. "This recognition reflects the collaborative efforts of our industry and public partners to strengthen the economy and attract transformational projects and investments in cutting-edge industries such as semiconductors, aerospace, and advanced manufacturing, to create opportunities within our growing region and state."

"American Battery Factory's announcement catapults Tucson into the national spotlight, ensuring Southern Arizona has a prominent place as a cutting-edge leader in the energy storage and EV manufacturing supply chain being developed right here," said Joe Snell, President & CEO, Sun Corridor Inc. "Our region has seen nearly 4,000 new jobs and new/expanding companies representing $6.5 billion in economic impact just over the last several years."

Area Development Magazine ranks states with weighted scores based on the number of high-valued added jobs per capita, amount of investment, number of new facilities, and industry diversity.

Arizona saw economic development wins across the state in 2022, landing semiconductor, electric vehicle, battery, aerospace and manufacturing projects.
In addition to TSMC, some 2022 project highlights include:
A report on the 2023 Shovel Award winners is published in the Q2/2023 issue of Area Development and posted online at www.areadevelopment.com/shovels.
Media Contact
Alyssa Tufts, Arizona Commerce Authority, [email protected]
About the Arizona Commerce Authority
The Arizona Commerce Authority (ACA) is the state's leading economic development organization with a streamlined mission to grow and strengthen Arizona's economy. The ACA uses a three-pronged approach to advance the overall economy: attract, expand, create - attract out-of-state companies to establish operations in Arizona; work with existing companies to expand their business in Arizona and beyond; and help entrepreneurs create new Arizona businesses in targeted industries. For more information, please visit azcommerce.com and follow the ACA on Twitter @azcommerce.