Approach
HANDS-ON COLLABORATIVE APPROACH
IAM's members collaborate on state-of-the-art research and testing in Arizona, lending expertise and resources to drive the future of mobility. An open, coordinated effort helps realize automated vehicle safety benefits, manage risk and reduce liability.
ARIZONA: A STATEWIDE, REAL WORLD LAB
ARIZONA: A STATEWIDE, REAL WORLD LAB
Arizona is paving the future of mobility with innovation-minded leaders, a long history of testing and development, and an advanced infrastructure. Here, industry leaders, academics, and policymakers have an open, coordinated effort to safely develop and deploy automated vehicles.
With consistent weather conditions and diverse topography, Arizona offers a multitude of testing environments. From busy streets, long extension of highway and open stretches of rural roads, to summer heat, winter snowfall and mild weather most of the year, Arizona provides diverse scenarios to learn and advance ADS technology.

Test Network
At the IAM testing sites, members are collecting data to understand mapping paradigms for how automated vehicles will interact with human drivers and other AVs. IAM is working to add analysis capability to existing state monitoring systems, establishing powerful feedback mechanisms for off-road testing. ADS developers also have access to AV testing facilities around Arizona.
MCDOT SMARTDrive: Anthem
This real world intersection in the north suburbs of Phoenix is equipped with traffic automation-enhanced cameras operated by the Maricopa County Department of Transportation.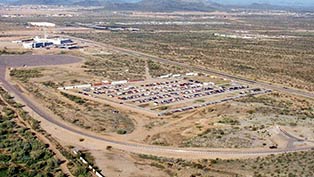 Test & Engineering Center: Phoenix
Exponent's Test & Engineering Center includes both indoor and outdoor proving ground facilities for large-scale testing.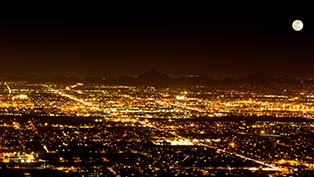 ADOT: Statewide Camera Network
The Arizona Department of Transportation's extensive and diverse camera network provides the opportunity to apply AI to analyze traffic trends.