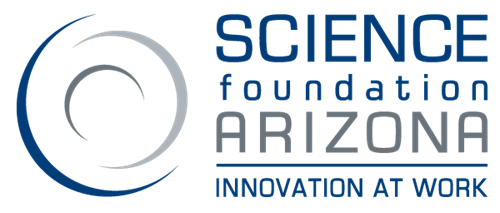 MISSION-DRIVEN RESEARCH
Science Foundation Arizona is a 501(c)(3), public-private non-profit organization dedicated to diversifying and strengthening Arizona's economy by supporting mission-driven research. The Arizona Commerce Authority and Science Foundation Arizona have formed a strategic partnership to accelerate industry-education collaboration and pursue external funding opportunities. Together, the two organizations will work to energize next-gen talent while growing and attracting industries of the future.
---
ADVANCING INDUSTRIES OF THE FUTURE
SFAz plays a pivotal role in delivering and managing purpose-driven innovation, research and education throughout Arizona, accelerating emerging technologies. SFAz contributes to many of the state's major innovation initiatives in three key sectors: advanced mobility, semiconductors and cybersecurity. 
---
ADVANCED MOBILITY
SFAz's goal is to enable advanced mobility through impactful research in connected, automated, and zero-emission vehicles. In partnership with the ACA's Institute of Automated Mobility, this includes the development of ACA's Automated Vehicle – Testing and Evaluation Process (AV-TEP) Mission, Zero-Emission Vehicle – Collision Management System (ZEV-CMS) Mission, and the Vehicle – Strategic Coordination of Advanced Automotive Workforce Development in Arizona (V-SWAAWDA).
SEMICONDUCTOR
Arizona is home to globally recognized semiconductor manufacturers, attracting companies from around the world to develop technological breakthroughs that are shaping the future. SFAz has partnered with the ACA on the National Semiconductor Economic Roadmap (NSER) to advance U.S. semiconductor competitiveness. 
CYBERSECURITY
SFAz's goal is to provide education, research and support around Arizona's cybersecurity efforts. This includes partnering with ACA's Arizona Small Business Boot Camp to provide resources to local businesses. 
ABOUT SFAZ
SFAz was founded in 2006, created by the collaboration of Arizona's academic, industry and public sector leaders. Founding organizations included the Greater Phoenix Leadership, Southern Arizona Leadership and the Flagstaff 40. SFAz has awarded more than 150 individual grants, totaling more than $110 million since 2007. The organization's STEM initiatives have impacted hundreds of thousands of students, integrating STEM education and the future of business.