Arizona Economic Development Sets New Records
Companies working with the Arizona Commerce Authority committed to creating a record amount of projected jobs and capital investment in Fiscal Year 2023
PHOENIX, AZ (August 3, 2023) – Arizona economic development efforts continue to break records and earn international attention. During the 12-month fiscal period that ended June 30, 2023, the Arizona Commerce Authority (ACA) and local economic development agencies successfully worked with companies that committed to creating a projected 24,246 new Arizona jobs with an average wage of $71,893. Those companies also committed to investing a record $40.73 billion in local communities – single year records for jobs, capital investment and wages.
The Fiscal Year 2023 (FY 23) results represent 121 percent of the ACA's projected jobs goal, 121 percent of its wages goal, and 1,018 percent of its projected capital investment goal.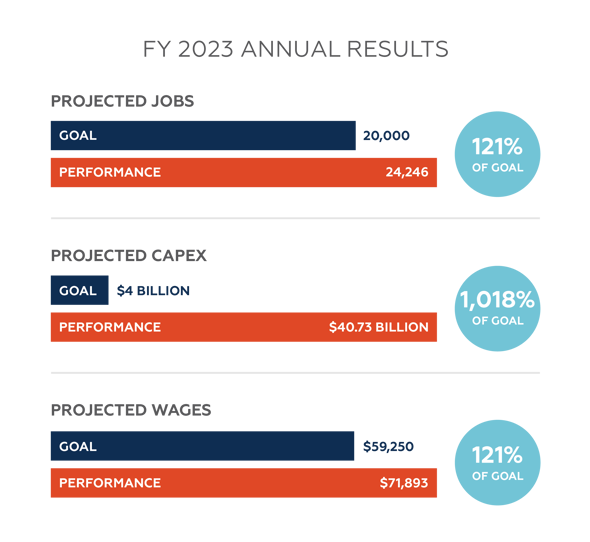 The ACA worked with companies across the state in FY 23, with expansions taking place in Avondale, Buckeye, Camp Verde, Casa Grande, Chandler, Coolidge, El Mirage, Eloy, Gila Bend, Gilbert, Glendale, Goodyear, Kingman, La Paz, Mesa, Phoenix, Pima, Peoria, Queen Creek, Sahuarita, Scottsdale, Sierra Vista, Surprise, Tempe, Tolleson, Tucson, Willcox, and Yuma.
Contributing significantly to the FY 23 results were TSMC and LG Energy Solution. TSMC's announced $28 billion investment in December 2022, bringing its total investment in Arizona to $40 billion, and LGES's $5.5 billion investment to build a battery manufacturing complex in Queen Creek earned international recognition.
"Arizona is experiencing unprecedented economic growth, delivering increasing economic opportunities to residents across the state," said Sandra Watson, President and CEO of the Arizona Commerce Authority. "With a reputation as the premier destination to do business, Arizona continues to attract global companies in high-wage industries such as advanced manufacturing, life sciences, technology, and more. We are grateful to Governor Hobbs, Senate President Warren Petersen, and Speaker Ben Toma as well as all of our industry, academia, and local partners for their continued support and collaboration to advance Arizona's economy."
Expansion and attraction projects in FY 2023 include:
In June, Arizona was awarded a prestigious "Gold Shovel" award from Area Development Magazine in the 6-10 million population category, marking the state's third consecutive gold shovel. In addition, TSMC's $40 billion investment for its two fabs in Phoenix was named one of 15 "Manufacturing Projects of the Year."

Since 2011, Arizona has successfully won more than 1,166 competitive projects, which represent over 264,000 projected new Arizona jobs and more than $112 billion in capital investment across the state.
Media Contact
Alyssa Tufts, Arizona Commerce Authority, [email protected]
About the Arizona Commerce Authority
The Arizona Commerce Authority (ACA) is the state's leading economic development organization with a streamlined mission to grow and strengthen Arizona's economy. The ACA uses a three-pronged approach to advance the overall economy: attract, expand, create - attract out-of-state companies to establish operations in Arizona; work with existing companies to expand their business in Arizona and beyond; and help entrepreneurs create new Arizona businesses in targeted industries. For more information, please visit azcommerce.com and follow the ACA on Twitter @azcommerce.