A Roadmap for the Future
---
1
Safety Assessment Methodology
2
Roadway Infrastructure as a Service
3
Situational Awareness Capability
4
Individualized Active Traffic Management
---
IAM is pioneering what is becoming the national playbook for a safe and scalable transition to automated vehicles. The consortium brings together experts from the private industry, government and academia. With a strategic, forward-thinking roadmap, IAM provides the technical guidance and coordination to deploy automation to significantly increase safety and efficiency.

Arizona:
A Statewide, Real World Laboratory
Arizona is globally recognized as a hub for innovation and emerging technology. IAM members collaborate to drive the research and development of automated mobility in Arizona and beyond.
Featured Projects
Operational Safety Assessment Metrics
Working with the transportation community and municipalities, IAM has defined metrics for operational safety assessment and is constructing cost efficient methodologies for measurement.
Network Safety Performance Prediction
Enabled by artificial intelligence, IAM is exploring how to use the state's traffic camera network to broadly monitor the introduction of automated vehicles to roadways and provide key safety and operational insights to traffic management officials.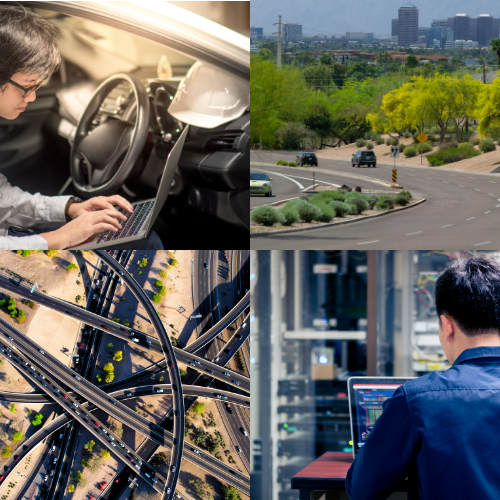 Latest News
IAM, AUTOMATED VECHICLE TECHNOLOGY
04/06/2023
Automated Vechicles, Automated Vechicle Technology, AV Tech, IAM
03/11/2022
As technology companies continue to invest billions in the testing and safe deployment of AV technology, Arizona promises to continue to be a leading center of innovation and discovery.
---