Arizona Is

America's Backlot
Welcome to Arizona America's backlot 


With over 300 days of sunshine, no permit application fees for use of state roads and state parks, pre-negotiated discounts from hotels, rental vehicles, restaurants, and more - plus cash rebates from equipment vendors, Arizona is the right choice for your next production. 
Few states offer Arizona's endless variety of outdoor scenic vistas, all within a few hours' drive. Recent agreements with the State of Sonora, Mexico, and the Navajo Nation have increased Arizona's already impressive location offerings.
Lower production costs, streamlined permitting processes, experienced crews, and talent: everything your production needs is right here. 
Come discover why Arizona is America's Backlot!
Register a new projecT register a wrapped PRoject
Arizona Production Directoryproduction essentials
---
FILMED IN ARIZONA
More than 5,000 films and TV shows have been filmed in part or in whole in Arizona since 1913 with the production of "Arizona". We invite you to film your next production in the beautiful Grand Canyon State of Arizona - America's Backlot! To view more trailers and recent projects visit our Filmed in Arizona webpage.
---
---
---
---
---
---
Arizona Film & Digital Media

Unexpected Arizona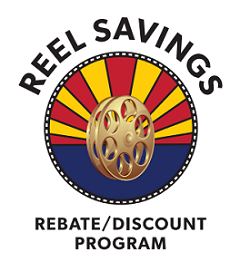 A Revolutionary Approach 

to Film Incentives
Reel Savings is a private sector program that supports Arizona's film and digital media industry. Participating vendors, like hoteliers, rental car operators, and restaurants, provide special discounts to productions registered with the Arizona Film & Digital Media Program. Discounts provide immediate savings to your production with no delays or paperwork. For more details or to register, click here.
---