SUPPLYING THE ECONOMY
With more than 5,220 manufacturing establishments, Arizona's supply chain is robust, healthy and easily accessible. The state's manufacturers of all sizes serve as the foundation to many complementary industries, creating a symbiotic ecosystem.
MODERN INFRASTRUCTURE
Arizona's modern infrastructure is enabled by an evolving, master-planned and forward-looking transportation network. The state's freight rail system commutes supplies and distribution around the state. Class I carriers BNSF Railway and Union Pacific Railroad (UPRR) operate 73 percent of Arizona's rail network. Short line carriers provide local service connections to the Class I network, opening service for raw materials and mining.
The Port of Tucson is a full-service inland port, rail yard and intermodal facility located 70 miles north of the Mexico border crossing in Nogales on I-19. Manufacturers in the state benefit from more than 1.7 million square feet of manufacturing, warehousing and distribution buildings.
2,000-mile freight rail system
130,000 miles of highways
ARIZONA-SONORA MEGAREGION
Arizona's close proximity with Mexico allows it to collaborate with neighboring state Sonora. Known as the Arizona-Sonora Megaregion, it offers an expansive opportunity for growth, a robust supply chain, modern transportation infrastructure and talented workforce. The region fosters increased trade with investment in the manufacturing supply chain for high impact industries such as aerospace & defense, automotive, mining and metals, agriculture, renewable resources and medical devices.
6 international
border ports of entry
2,379 miles of
Class 1 railroad
Access to complete supply chain
within a one-day driving radius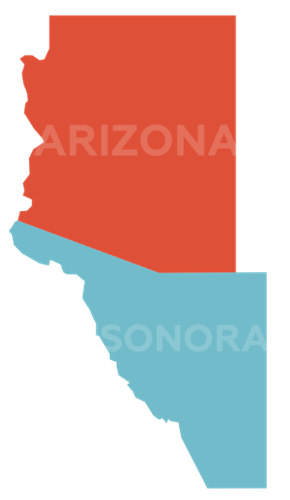 SkyBridge Arizona operates out of the Phoenix-Mesa Gateway Airport and is the nation's first and only inland international air logistics and joint U.S.-Mexico customs processing hub. The first-of-its kind service enables e-commerce companies, manufacturers and other commercial interests conducting business in Mexico and throughout Latin America to transport goods efficiently and cost-effectively between countries. The Unified Cargo Processing Program seamlessly approves incoming and outgoing freight at Phoenix-Mesa Gateway Airport bound for customers on either side of the U.S.-Mexico border.
EXPORT ASSISTANCE
Manufacturing supplies including electric machinery, industrial machinery, aircraft and spacecrafts, and optic and medical instruments are a top export for Arizona. The ACA offers companies a suite of export assistance programs to grow their customer base outside the U.S.
Arizona-Mexico Trade & Investment Office
The ACA also has three trade offices in Mexico (Mexico City, Chihuahua and Guanajuato). These trade offices provide export assistance to Arizona companies, including market research, sales channel partner identification, and in-country B2B/B2G matchmaking. In the Mexico offices, trade specialists work with Arizona companies who are near-shoring to take advantage of cross-border supply chains, including the automotive and aerospace supply chains.
ExporTech
To support manufacturers with this lucrative effort, Arizona MEP offers the ExporTech program in conjunction with the U.S. Commercial Service. Through group and individualized workshops, manufacturers complete an export plan within 9 weeks. This accelerated program is executive driven, with a dedicated team of partners.
FIND NEW SUPPLIES, CUSTOMERS AND PARTNERSHIPS
The Arizona Supply Chain Directory is a comprehensive, interactive database designed to connect companies with Arizona-based suppliers. The database includes detailed profiles of more than 1,250 companies with a presence in Arizona, and allows users to search by industry, size, certifications and products and services offered.
Access vendors with specialized competencies, clearances and certifications
Identify potential new clients who can benefit from your company's unique competencies and offerings, and
Research Arizona companies with whom to partner to pursue larger contracts or projects.