ADVANCED TECHNOLOGY. ADVANCED TALENT.
Arizona's collaborative manufacturing talent implement global solutions and develop the technologies of the future. With innovative training programs, leading universities and a robust pipeline, Arizona's talent pool is ready to shape the future.
TOP 3
Manufacturing Job Growth From 2017 to 2021
181,991
manufacturing jobs
TOP 3
Optics and Photonics Manufacturing Job Growth From 2017 to 2021
Lightcast, 2023
TRAINING FOR THE JOBS OF THE FUTURE
Talent training and university programs in Arizona focus on smart, connected manufacturing with hands-on opportunities. The state is a hub for high-tech manufacturing talent prepared for collaboration, innovation and the future.
40 schools offering related programs
19,949 degrees and certificates granted in 2021

Arizona State University (ASU) in Tempe is one of the nation's largest colleges and universities. U.S. News & World Report has ranked ASU as the most innovative school in the country for eight consecutive years. ASU is home to the highly regarded W. P. Carey School of Business, the Thunderbird School of Global Management and the Ira A. Fulton Schools of Engineering. The Fulton Schools enroll more than 32,200 engineering students, with high concentrations in computer science, information technology and software engineering. ASU offers a master's program in robotics and autonomous systems with 25 world-class robotics and engineering labs. In fiscal year 2021, ASU had more than $677 million in research and development expenditures.
ASU is well known for its supply chain and logistics programs – ranking second in the nation for undergraduate students and third for graduate students by U.S. News & World Report. Additionally, ASU researchers are making valuable contributions to the transportation sector, with centers and initiatives that focus on sustainability, autonomous vehicles and smart materials design and testing. In 2023, the Ira Fulton School of Engineering at ASU was ranked in the Top 40 among all of the nation's graduate programs, 22 among graduate programs at public institutions and 12 among the nation's online master's in engineering programs by U.S. News & World Report.

University of Arizona (UArizona) in Tucson is home to the nation's first academic department for systems engineering, which prepares students for technology-augmented manufacturing jobs of the future. The College of Electrical and Computer Engineering houses multidisciplinary research centers supporting internationally recognized research in autonomous systems and robotics communications, circuits, microelectronics and optics and photonics. In the fiscal year 2021, UA had R&D expenditures of more than $770 million.

Northern Arizona University's undergraduate engineering program is ranked among the best in the nation for schools where a doctorate is not offered. NAU also offers astrophysics programs, mechanical engineering, aerospace studies, adaptive materials and systems, composites and optics. The university is also home to the Advanced Composite Materials Laboratory, a research laboratory equipped for the fabrication, testing and analysis of composite materials. IIn the fiscal year 2021, research & development expenditures at NAU totaled more than $69 million.

Arizona Advanced Technology Network
When Lucid Motors decided to move to Arizona, the Arizona Commerce Authority took the initiative to lead an effort to ensure that the state continues to produce highly-trained talent for Lucid Motors and other manufacturers in the region so companies know exactly what graduates have learned and have a workforce prepared to excel in their facilities. Thus, Arizona's employers, public sector and academic institutions created a first-of-its-kind partnership - the Arizona Advanced Technology Network (AATN). The Maricopa County Community College District, Central Arizona College and Pima Community College worked with dozens of manufacturers to develop a unified, industry-recognized curriculum specifically designed to teach the skills needed for manufacturing jobs. Students can now enroll to earn Automated Industrial Technology stackable certificates and degrees, all meeting the standards of the highly regarded National Institute of Metalworking Skills (NIMS).
Maricopa County Community College District
Arizona is home to a robust community college network, including the Maricopa County Community College District (MCCCD). More than 200,000 students can earn degrees and certificates that focus on engineering, robotics technologies and artificial intelligence. These programs provide students with the fundamentals of physics, engineering, computer hardware and programming. MCCCD works directly with local employers like Boeing and Caterpillar to develop customized training curricula, so employees obtain skills that companies value. In 2020, MCCCD partnered with Intel to launch the first artificial intelligence associate degree program enabling tens of thousands of students to land careers in healthcare, automotive, industrial and aerospace fields.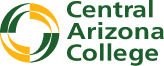 Central Arizona College has five campuses throughout Pinal County. As a founding member of the Arizona Advanced Technology Network (AATN), Central Arizona College's Automation Industrial Certificate prepares students with skills in running and maintaining robots, 3D printing, reading and writing machine programming code and knowledge of hydraulic and electrical systems. The college recently announced a collaboration with Lucid Motors to build a high-tech training center for employees of Pinal County's incoming advanced manufacturers. The center will house training equipment driven by the AATN industry-recognized curriculum.
Arizona Advanced Manufacturing Institute (AzAMI) at Mesa Community College is a unique center of excellence created to help Arizona business and industry partners stay competitive and provide a pipeline of career-educated and ready-to-work employees. From enrollment to employment, AzAMI connects workforce opportunities with local and regional businesses, building a technically trained, talented supply of motivated and skilled individuals.

Pima Community College (PCC) is a two-year college providing workforce development, career training programs, continuing education and more. As a founding member of the Arizona Advanced Technology Network, Pima Community College is committed to enabling students with skills for the future of work. The college is currently developing the Center of Excellence in Applied Technology, with an Automotive Technology and Innovation Center and Advanced Manufacturing Center. These centers will house CNC machining, quality inspection, automation and robotics, welding, computer-aided design and engineering technology programs.

Estrella Mountain Community College
Part of the Maricopa Community College District, Estrella Mountain Community College (EMCC) is located in Avondale, outside of Phoenix. EMCC is the newest member of the Arizona Advanced Technology Network, offering an Associate in Applied Science in Automated Industrial Technology. Students learn to troubleshoot, maintain and repair a variety of automated electro-mechanical, product assembly, process control, and product distribution systems.
Arizona's Joint Technical Education Districts (JTEDs) help prepare high school students for careers through Career and Technical Education programs.
Manufacturing-related programs include:
Automation / Robotics
Computer maintenance
Electronic technologies
Engineering science
Precision machining
Software development
Welding technologies