---
---
David Garafano
SVP of Manufacturing Programs and Executive Director of Arizona MEP
David Garafano joined the Arizona Commerce Authority in October 2015 as the Executive Director of The Arizona Manufacturing Extension Partnership, Arizona's NIST Manufacturing Extension Partnership. Dave's professional background includes 25+ years of experience in manufacturing and business, having held leadership positions with companies such as AT&T, Lucent Technologies, Celiant, Andrew and ON Semiconductor.
As Executive Director for Arizona MEP, Dave leads statewide efforts to help Arizona manufacturers with fewer than 500 employees to become the most successful businesses they can be. Arizona MEP offers a variety of services to help companies improve business and operational performance through the world-class team at Arizona MEP and a network of third party service providers.
---
Rodney Nelson
Vice President, Client Operations
Rodney Nelson joined the Arizona Commerce Authority in October 2016 as a Sr. Client Advisor the Arizona Manufacturing Extension Partnership, Arizona's NIST Manufacturing Extension Partnership. Rodney's professional background includes 20+ years of experience in research and development, process engineering, manufacturing management, program management and operations management. Rodney has held positions in the solar, semiconductor, e-commerce and healthcare industries.
As a Sr. Client Advisor for the Arizona MEP, Rodney leads statewide efforts to help Arizona manufacturers with fewer than 500 employees to become more efficient and profitable. By utilizing his broad range of experience to assist manufacturers with lean process improvement initiatives and goal driven operations management, Rodney helps companies improve profitability, meanwhile encouraging Arizona job growth. Rodney utilizes his accomplished leadership in strategic operations and manufacturing, and applies his knowledge and expertise in increasing productivity and profitability through effective leadership, innovative thinking, process improvement, project management and a hands-on approach to achieving results, in order to meet the unique needs of each of his clients.
Rodney possesses a B.S. in Chemistry, an M.B.A. in Technology Management, and is both a certified Lean Six Sigma Black Belt and Project Management Professional.  
480-286-4155 (mobile)
---
Tanya Perkins
Senior Client Advisor
Tanya Perkins brings an extensive background in manufacturing staffing, business development and sales and operations to her role with the Arizona Manufacturing Extension Partnership. This experience includes more than 12 years in branch management and business development for three different staffing companies in the Phoenix area. Many of her clients were manufacturers looking to fill positions for machine operators, production line workers and welders.
Tanya also owned and operated a retail business for four years in Wisconsin. She successfully sold that business to new owners in 2005 and moved to Arizona. Now, she uses this experience to find solutions and implement necessary business and operational improvements to achieve her clients' goals. Tanya is also leading an Arizona MEP initiative to document all workforce development resources, educational partners, government programs and staffing resources available to manufacturers in the state of Arizona.
Tanya earned her Bachelor's in Business Administration with an emphasis in Marketing and a minor in Spanish from Morningside College in Sioux City, Iowa. She has also received professional sales training through the Sandler Presidents Club where she was a member for four years.
602-845-1285
414-202-7780 (mobile)
---
Gary Williams
Senior Client Advisor
Gary Williams brings nearly two decades of experience consulting and managing the integration of digital video, automation control systems and cloud security for corporate and residential settings to his role at the Arizona MEP.
Most recently, Mr. Williams worked as the sales engineer for a managed service provider where his role included project management, business development and marketing. He primarily focused on helping owners of small- to medium-sized businesses develop strategies to navigate industry compliance with regulations, enhance their security posture during increased production and grow wisely while keeping up with payroll.
Prior to that, Mr. Williams worked for an electronics integration company as their service manager. He was responsible for onboarding and continuing training, work culture development, quality management and technical support.
Mr. Williams holds certificates in and has participated in industry-specific training such as Lean, Six Sigma, 5S, and CompTIA A+. He is also a registered locksmith with the State of Arizona.
520-510-0408
---
Greg Bischak
Senior Client Advisor
Greg Bischak has 30+ years of experience conceiving, developing and executing strategies and plans to help manufacturing companies capture business, drive growth, and improve performance domestically and globally. He has held functional and C-level roles in SME to large manufactured product businesses including all aspects of business model creation, business development strategy, direct sales, distribution, sales processes and management, marketing, technology management, organizational restructuring, process optimization, material management, financial restructuring and facility operations. His consulting activities have focused on helping Arizona manufacturing companies leverage their assets and competencies to accelerate growth and profitability.
Greg holds a Bachelor's in Electrical Engineering and Business from Illinois Institute of Technology, has completed Graduate work at the University of Edinburgh, and specialized training including program management, earned value, lean, six sigma, ITAR, FAR and contract management.
602-845-1238
---
Kevin O'Shea
Senior Client Advisor / VP International Trade
Kevin O'Shea joined the Arizona Commerce Authority in 2011. Today he serves as Vice President of International Trade for the organization. In his role, Kevin manages international trade programs, including AZSTEP, ExporTech, and the Mexico City Trade Office, among others.  He functions as direct a liaison with federal, state, regional and local agencies, offices and departments, as well as private sector entities on economic development initiatives in the international trade and export arena. Kevin is instrumental in securing funding (including grant writing and program management) at the federal and state levels. Kevin earned his Bachelors Degree from Brown University and his law degree (JD) from the University of California at Berkeley.
602-845-1217
---
Michael Jimmerson
Senior Client Advisor
Michael Jimmerson joined the Arizona Manufacturing Extension Partnership in October 2018 as a Sr. Client Advisor. Michael's professional background includes 9 years of experience in a leadership position for a leading technical training provider, 10 years of experience as a sales team manager as well as a background in the Automotive and Powersports industry. Michael is a Veteran of the US Navy as an Avionics Electronics technician for the F-14 Tomcat.
As a Sr. Client Advisor for the Arizona MEP, Michael leads statewide efforts to help Arizona manufacturers with fewer than 500 employees to become more efficient and profitable. Michael finds his passion as an advocate for Arizona businesses by utilizing his experience to help aerospace companies and other manufacturers by increasing sales, utilizing goal and metric driven methodologies. He is able to help manufacturers improve profitability through effective training, sales team management and CRM utilization. He can meet the unique needs of his clients through a collaborative approach in problem-solving, measuring success and using his expertise in people management to expand manufacturing and encourage job growth in Arizona.
602-845-1253
---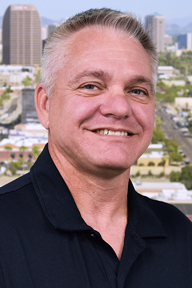 Jim Harrison
Director - Supply Chain Optimization
Jim joined the Arizona MEP in 2019 and brings 25+ years of experience in manufacturing and supply chain operations leadership. He has worked to transform organizations through improving production and global supply chain processes. These are manufacturing organizations that produce products such as aerospace components, medical devices, consumer products and industrial machines. His leadership has led to successfully eliminating waste resulting in lower cost, higher margins, better efficiencies, and increased employee satisfaction. His contributions have been instrumental in start-ups and business turnarounds.
As a Senior Client Advisor for the Arizona MEP, Jim helps manufacturers with resources using our staff experts and our extensive network of partners with a goal of growing and strengthening manufacturing in Arizona and ultimately contributing to growth in the Arizona economy.
Jim is a proud veteran of the Arizona Air National Guard. He holds a Bachelor of Science degree in Business-Information Systems and earned his MBA from the WP Carey School of Business at Arizona State University in the High Technology Program. He also has a Lean Green Belt certification and is credited on multiple US and foreign patents.
602-845-1267
---
Kyle Randels
Senior Client Advisor - Continuous Improvement
Kyle joined the Arizona Manufacturing Extension Partnership in January of 2021 bringing over 40 years of Continuous Improvement expertise to the team.  He is certified as a Six Sigma Expert, has a Green Belt certification in Lean, and was trained in Lean deployment earning the distinction as a 'Lean Expert' to the Toyota Manufacturing requirements. 
As Director of Six Sigma for a large aerospace company, he was responsible for the continuous improvement of processes and products that spanned multiple defense products across a business unit workforce of 12,000 employees in Arizona.
Kyle has lead facility transitions, lean projects, manufacturing renovations and upgrades, a cultural shift to small work teams, and participative management, as well as having a background in sales, marketing and business growth in his position as General Manager for a heavy industry company in Arizona. 
Kyle graduated from the University of Arizona with a degree in Public Administration, majoring in Health Services Administration, and also holds an MBA in Technical Management from the University of Phoenix.
602-845-1236
---
Adam Fuess
Senior Client Advisor
Adam Fuess joined the Arizona Manufacturing Extension Partnership in August 2021 in the role of Senior Client Advisor.  Adam's professional background includes over 20 years of experience in a variety of fields.  He has held technical, lean, and leadership roles in electronics manufacturing, terminal operations shared-services, commercial HVAC, and military hardware and textiles industries.  The roles he has held have spanned from Hardware Assembler to Vice President.
As a Senior Client Advisor, Adam works with manufacturers across Arizona to help drive the creation of value across all levels of the business.  Utilizing our expert providers, Adam will help identify what is needed to drive top and bottom-line growth, eliminate roadblocks, strengthen processes, and empower the people that do the work.
Adam holds a bachelor's degree in Operations Management from Arizona State University and True Lean Systems certification through the University of Kentucky and the Toyota Motor Manufacturing Corporation.
602-845-1244 
---
Michael D'Hoostelaere
Senior Client Advisor
Michael D'Hoostelaere joined the Arizona Manufacturing Extension Partnership in August, 2022. Mr. D'Hoostelaere over 45 years of experience in marketing, strategic planning, and business development. Michael has held senior positions in the Health Care, Telecommunications and Consulting industries. He has worked in the consulting/coaching arena since 1993 and during that time, has demonstrated exceptional results in creating economic impact and operational improvement for his clients. Michael has also had 6 years of experience working for the Small Business Development Centers (SBDC) as well as managing his own SME consulting practice.
Michael's current primary role as a Senior Client Advisor is to improve Financial Literacy for MEP clients, to refine and upgrade MEP's tools for conducting Business Assessments and provide Sales Training to clients. He will also aid MEP clients in the core areas of financial management, performance improvement and strategic planning.
Michael holds an MBA in Marketing from the Harvard Business School and a Bachelor's in Management and Economics from Jacksonville University. His specialized training includes being a certified Profit Mastery trainer, an expert analyst in Profit Cents financial modeling, earning a CGBP certification from NASBITE International.
602-506-1786